What is an employer brand? As an influential HR leader once said, it's what your employee says about you after a couple of glasses of wine. As true as this is, your employer brand doesn't end here. It's an ongoing process. And it can change from day to day. It can be reduced to anything from good coffee to bad managers.
How does employer branding make recruiting easier?

The benefits of a modern employer brand are clear. A good employer brand can reduce employee absenteeism and turnover. It can also make it much easier for an employer to attract, manage and retain talent – and can even reduce investment and cost.
This is why, as an HR leader, it's important that you take care to develop, manage and maintain your employer brand throughout the employee lifecycle. After all, your business depends on it. But what can you do today to improve your employer brand? How can you become one of the top employers in your industry?
Want some examples for modern employer branding? Below are our top 10 tips for building a modern branding strategy in your workplace for 2018:
10. Provide popular food and drink benefits
How good is your coffee? Did you know that today's youngest employees appreciate food and drink benefits more than any other benefit? In fact, if your competitor offers better food and drink options, this alone would be enough to tempt up to 6% of your employees to their door. Want to boost your employer brand for today's graduates and young professionals? Coffee, fruit, lunch and cake could just be the answer.

9. Train and develop your managers carefully
What do employees look for in an employer? In our recent employee happiness index, we found that employees ranked good management as the most important factor when choosing a workplace (other factors included workplace culture and colleagues). All of your hard work in employer branding can be undone in an instant if you don't offer your managers the right tools, support and guidance to manage their teams. A bad manager is a symptom (not a cause of) a bad workplace.
8. Share your employer brand on your social media
Share the inside story on your social channels: from twitter to Instagram, LinkedIn to facebook. Did you know that most candidates often check company social feeds before they interview? And not just candidates, but so too your business prospects and clients. A happy workplace and engaged workforce is also a big factor in deciding whether to do business. An active social presence = #1 workplace.
7. Communicate your employee success stories
Take control of the narrative surrounding your employer brand. By communicating your successes internally (at your workplace through newsletters, events and other forums) and externally (through your website and other PR activities) you can show the world what you offer and just how great it is to work for you.
6. Research your industry – what makes them a great workplace?
Find out everything about your industry. What employees want, what the competition offers and why candidates choose to work for your competitors. How can you improve your employee experience? Visit employee review and rating resources (such as glassdoor) to identify what's good (and most probably bad) about your employer brand – and what can be improved.
5. Discover the benefits of employee surveys
Want some real insight into your employer brand? Talk to people. At the interview stage, through onboarding, at regular intervals throughout the year and again at offboarding. In a recent survey of HR leaders, we found that many workplaces actually find out most about their employer brand (and their competitors) when interviewing candidates. Remember, only honest feedback offers value – make your employee surveys anonymous.
4. Listen to employee feedback
Base your employer branding activities on actionable insights – and not just a whim. Understand your employees, find out how your organization is perceived, and compare your activities to competitors. There are always opportunities for improvement, but know that building and boosting reputation is an ongoing process.
3. Provide a mobile employee experience
Did you know up to 85% of Generation Z employees prefer to log in to their employee portal using their smartphone? If you really want your employer brand to resonate with your employees, you have to get close to them. To do this, it's important you understand their behaviours, habits and preferences – especially when it comes to employee communication. Want your brand to survive in the future? Go mobile or go home.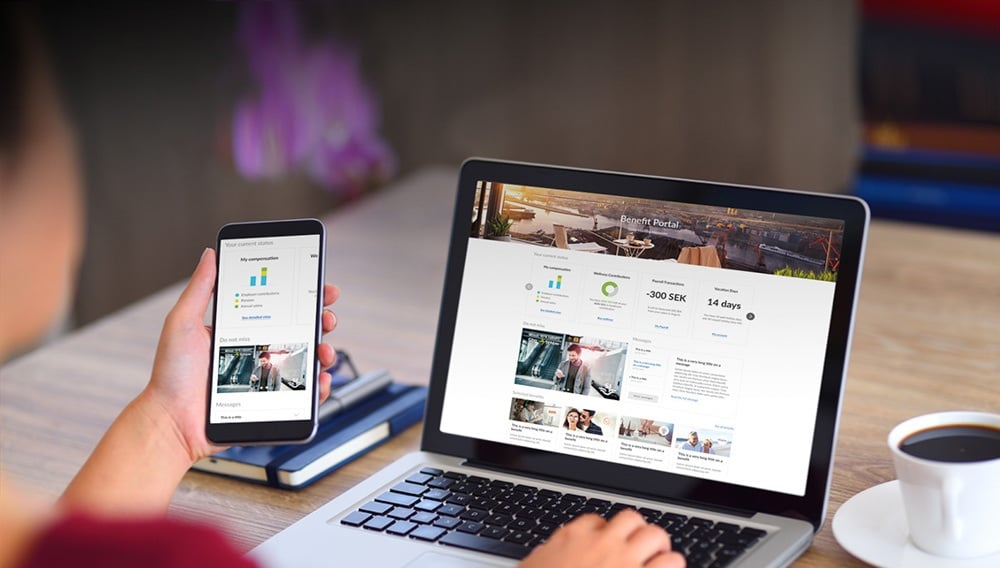 2. Offer benefits which reflect your brand values
In today's workplace, it's simply not enough to paint your brand values all over your walls and websites. If you want your values to resonate – you have to show you mean it by offering the right benefits. From CSR solutions and work/life options, to insurances and personal finance benefits. Our own research tells us that, employees who say they understand their employer's vision, mission and core values and up to 28% more engaged than those who don't.
1. Develop a benefits and communication strategy
A modern and effective employer brand doesn't just happen. It's the result of meticulous employee research, surveying and planning. And that's just the first bit. It's maintained and developed through more surveying and regular branding activities. Employees at workplaces which have a wider benefits and communication strategy are 20% more satisfied with their benefits, 19% more convinced their benefits are better than their competitors and 14% closer to the employer brand. And not only that: having a strategy doesn't just improve employer branding efforts, but it can also help businesses to reduce costs and prevent wasted benefit investment.
Want to read more about employer branding and strategy? Download our Employee Happiness Index 2018 for free today!
Want to find out more simple tips, tricks and trends for engaging your workforce? Download our Employee Engagement eBook for free today!