Digital technology has changed our working lives - the way we send, receive and store information, the way we communicate, and the way we operate. Today, we see shared workspaces replacing traditional offices, employees working from home, open-office plans, and flexible working hours.
Yet for all these advances, many companies still operate under an outdated 9-5 model. When it comes to happiness at work, today, we see four generations working together, each with their own work requirements and work preferences. Generation Y (aka millennials), for example, enjoy working from home and are happy to mix work time and free time, whereas Generation Z demands a clear distinction between work and leisure.
Regardless of age, while work contributes to our happiness by providing us with a combination of fulfillment, purpose, meaning, and social connection, our hobbies and interests outside of work, our families and our friends are also essential to our happiness. Happy people make happy employees.
Below, we offer 3 tips on how you, as an employer, can support employee work-life balance:
1. Offer Flexitime and The Ability to Work-From-Home
For employers wishing to promote work-life balance, flexi-time is one of the most obvious ways, and one that is very high up on the work requirement list for Generation Z. In fact, in 2018, Benify surveyed over 20,000 employees and HR leaders from over 100 organizations across a variety of industries and found that working hours and vacation benefits are one of the most popular benefits in today's workplaces – with as many as 69% of employees saying they enjoy flexible working perks.
For employees with young babies, long commutes, or elderly or dependent relatives, allowing employees to adjust their schedules to support their lifestyle is an attractive offering. Furthermore, not everyone is at their most productive or energetic between the hours of 9am and 5:00pm. Many people prefer to work in the early morning or later at night and flexi-time allows them to do this.
Technology has also made it such that, today, employees can work from home with ease – another perk that is greatly appreciated by many. While it's not practical or possible for every job, for companies on the fence about allowing employees to work from home, in addition to lowering company overheads, fewer distractions, reducing commuting times and improving work-life balance, a 2-year study conducted by Stanford University professor Nicholas Bloom concluded that employees are, in fact, more productive when working from home.
Is flexi-time and the ability to work-from-home something your company can offer its employees?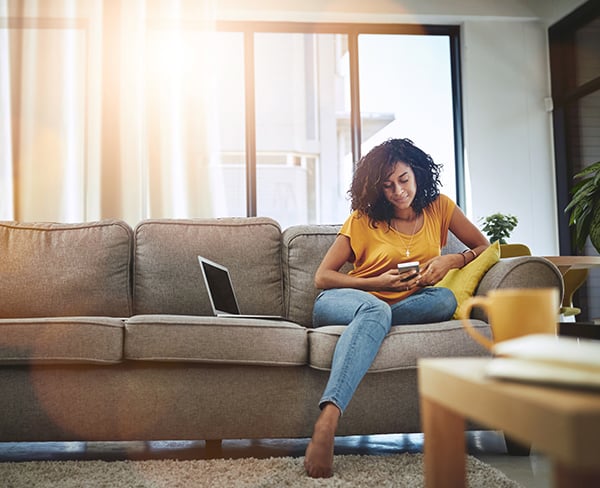 2. Prioritize employee health
Perhaps the strongest argument for work-life balance is employee health. After all, happy and healthy employees are more productive, more engaged in their work, take fewer sick days, and contribute to a more positive culture, among other countless other advantages.
Prioritizing employee health also means strengthening your employer brand. Support the health of your employees by offering employee benefits such as fresh fruit and other healthy snacks in the workplace, discounted gym and training passes, subsidized breakfasts, access to mental health resources, yoga classes, and more. The sky is the limit it terms of your employee benefits offering.
So, what employee benefits do you want to offer your employees to support their work-life balance and increase employee wellbeing?
3. Automate Processes and Make Information Accessible
In an article called Productivity, Lost Time, and the Power of AI to Make Search Easier, the author cites a 2001 IDC white paper on a study that showed "workers who manage, create, or edit documents for a company were spending up to 2.5 hours per day searching for what they needed". The same article mentions another IDC white paper published in 2012 which found that of the 1,200 information workers and IT professionals surveyed, an average of 4.5 hours a week was spent looking for documents. That's a lot of time wasted.
Today, it's still common to hear of HR departments all over the world handling dozens of inquiries from employees every day concerning holidays, sick leave, and compensation. As explained in the Benify e-book The Rise of HR, in the early days, HR professionals handled administrative tasks, helping employees with paperwork, and keeping track of vacation and other benefits. The future of work, however, will see HR professionals having the biggest impact on how we'll work.
Benify's global benefits and total rewards platform enables companies to centralize and automate the way they administrate processes from onboarding to distributing data to local insurers, carriers and payrolls. The portal also reduces the number of inquiries to HR by allowing employees to access all their employment information all in one place saving time and resources both employer and employee.
With the future of HR in mind, what processes can you automate to make things easier and, in turn, improve your own work-life balance? After all, work-life balance contributes to the overall employee experience.
Want to learn more about the employee experience? Download our e-book, "The New Employee Experience: How to maximise and optimise every step of the employee journey".