More of today's leading employers are choosing to provide their workforces with new and innovative mobile digital services for the employees. One such example is the employee smartphone app.
What is an employee engagement app?

An employee engagement app – usually available on all smartphone and tablet devices – makes it easier for employees to connect to their various employee benefits, rewards and other workplace services. This makes a whole world of information available in an instant – around the clock, and around the world.
The Benify App is the world's most complete employee smartphone app – creating a digital employee experience and connecting millions of employees the world over to the latest content and communication from their employer including compensation, benefits, payslips, policy, onboarding, reminders, events, employee surveys and more.
Unlike other popular employee apps such as Slack, Yammer and Workplace by Facebook, the Benify app provides a fully immersive employee digital solution – and isn't just a tool for easier corporate communication or chat.
But, why are so many of today's biggest employers investing in a fully mobile employee experience? Find out below as we highlight 5 most popular reasons why our clients choose the Benify smartphone app for their workforce:
5. Digital-native employees are taking over today's global job market
In the future, business growth will depend upon our ability, as employers, to meet and satisfy the sky-high digital thresholds of our employees. And what's the quickest way to a digital-natives heart? Through their smartphone, of course.
By 2020, up to 59% of the world's workforce will be made up of millennials and generation Z employees (statista). These generations, aged 38 or younger, are true digital-natives – having grown up in an era where all consumer services are a push away through an app – entertainment, food delivery, communication and everything else we need in our daily lives.
Indeed, data from Benify's own employee smartphone app is further proof of this. We see that more than 85% of today's young employees regularly choose to log in to their portal using their smartphone – compared to just 47% of the workplace's oldest employees. Welcome to the digital workforce.
4. You can connect digitally with your global workforce anytime, anywhere
The global workforce is increasingly mobile. In today's globalised world, it's important that multinational employers can provide a consistent employee experience to their global workforce – whether they're mobile or based locally.
By 2022, up to 1.87 billion of employees are expected to be mobile – a staggering 42.5% of the global workforce (Global Mobile Workforce Update 2016-2022). And this is made possible through all kinds of new mobile technology from employee communication, conferencing, time- and expense reporting, document sharing and – equally as important – employee engagement and reward management.
Through a mobile employee portal, the employee can log in to their personal employee portal and engage with a whole range of content and services at work, at home or on the go – from any location in the world. It's easy to connect, too. The employee can download their employer's unique app to their smartphone or tablet device via the App Store or Google Play (and is available for both iOS and Android).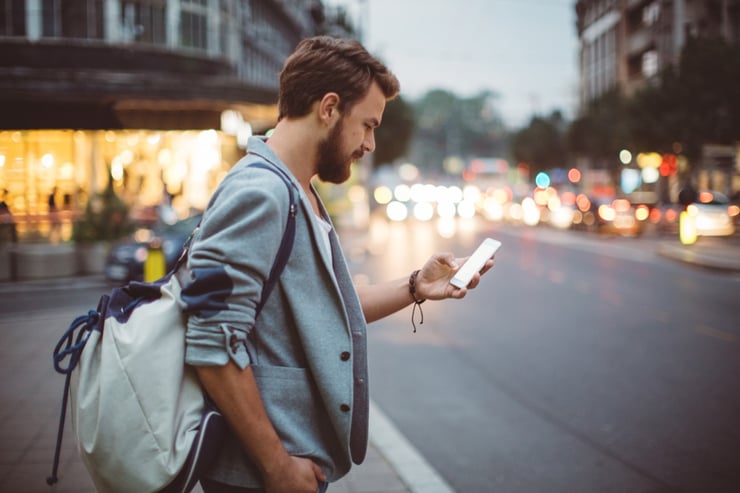 3. You'll create instant digital communication through push notification
Having a smartphone app means that you can do all those cool features which other apps can do, such as push notifications. It means that, particularly when it comes to your younger employees, you can create messages which really resonate.
Got a message which is urgent? Want to lift the value of your latest benefit or policy? Whether you're pushing cinema tickets on Saturday afternoons, or childcare benefits for those recently returned to work – you can increase your reach through push notifications.
Of course, we all need a little break from work in our private time – which is exactly why today's employees can filter their message per their different employee groups, and send at a time of their choosing. Through employee apps, employer communication has become more effective, efficient and easy.
2. Employee apps increase engagement with your offer
Employee digital behaviors aren't just defined by age, but can also vary per demographic and industry. This is where having an employee app can really pay dividends. For example, Benify recently sent the same email communication to two different workplaces (at the same time) – a leading insurance provider and a popular sports retailer. When we looked at the analytics afterwards, we found that employee digital behaviors varied across both workplaces.
At the insurance provider, which was largely office based, 77% of employees opened the message on their desktop computer, For the sports retailer, a more mobile demographic, 69% opened the email on their smartphone. But, the story doesn't end there. When we examined other communication, which was sent typically around the time of the commute or later, most employees opened the message using their smartphone.
1. You'll create a modern, digital employer brand
The future of work looks set to be shaped by a whole range of exciting innovation – from automation technologies, artificial intelligence, the Internet of Things and other 5G fuelled experiences. This has also completely reinvented the employee experience – and looks set to continue over the coming years.
As consumers, we expect personalised technologies. We want communication which is instant, relevant and actionable in a swipe. We want it all now. As employees, we're no different. To survive and thrive in this new digital era, it's a business no-brainer that employers must provide a consumer-grade digital experience which can go toe-to-toe with their competitors' – and match those personal technologies.
The world's leading employers have already started crossing the line from the standard 9-5, to the fully immersive digital employee experience. Which side of the line is your employee experience on?
Want to find out what else you can do to improve your employee experience? Download our free eBook Employee Engagement: Unlocking Your Employees' Potential today!