At Benify, we believe it's important to nurture and develop our people. We believe it's important to recognize and reward effort and create a culture where employees feel they are seen and supported.
A workplace culture that supports employee development and inspires employees to do their best is both crucial to employee satisfaction and the success of the company. And one of the best ways companies can convey their support and development of employees is through recognition and reward.
As explained in a blog post by Great Place to Work:
"We all want and need recognition. From a very early age, we crave it from parents, teachers, and friends. Our whole lives are modeled around constant social feedback and acknowledgement. So strong is our desire for positive affirmation, particularly during developmental periods, that even a neutral reaction can be perceived as a negative one. When we move to the workplace, this orientation is no different. It is key that employers focus on how they can make authentic and meaningful recognition part of their management philosophy in order to retain top talent and encourage high performance".
At Benify, we are proud to recognize and reward our people through our Benify Rockets Program.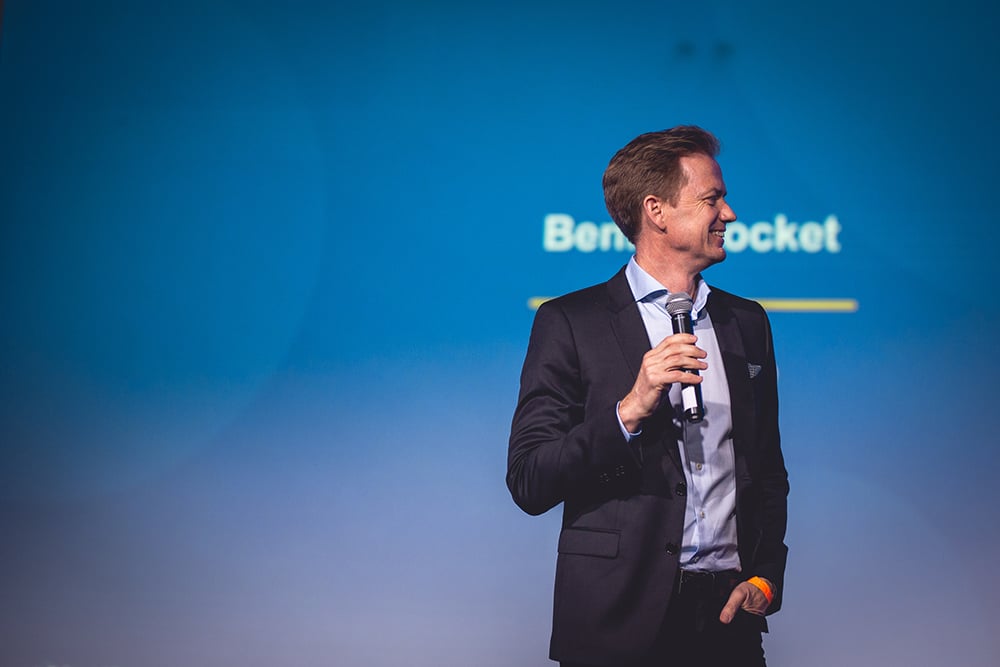 What Is a Benify Rocket and How Do You Become One?
A Benify Rocket is a star performer, a great ambassador of the company, and an ambassador of Benify's core values.
To be considered for selection, Benifyers need to fulfill the following criteria:
You are a top performer within your field

You are living Benify's core values to the fullest

You are a Benify Ambassador and are invested in the company as if it were your own
As part of our continuous employee performance process, all Benifyers are evaluated by their managers on the above criteria. Employees who score the highest in all three fields are selected and reviewed by the Executive Management team who then decide who will become this year's Rockets.
What is the Purpose of the Benify Rocket Program?
The purpose of the program is twofold:
• We want to reward and develop Rockets professionally
• We want to learn from our Rockets' knowledge and perspectives to further develop the company
We have created a program that reflects our journey of growth – our global expansion.
What Does the Program Contain?
The program includes elements for each Benify Rocket's own personal development, irrespective of role, as well as elements which enable Rockets to gain more insight, learn how to influence the global journey the company is on and how to influence strategic discussions within the management team.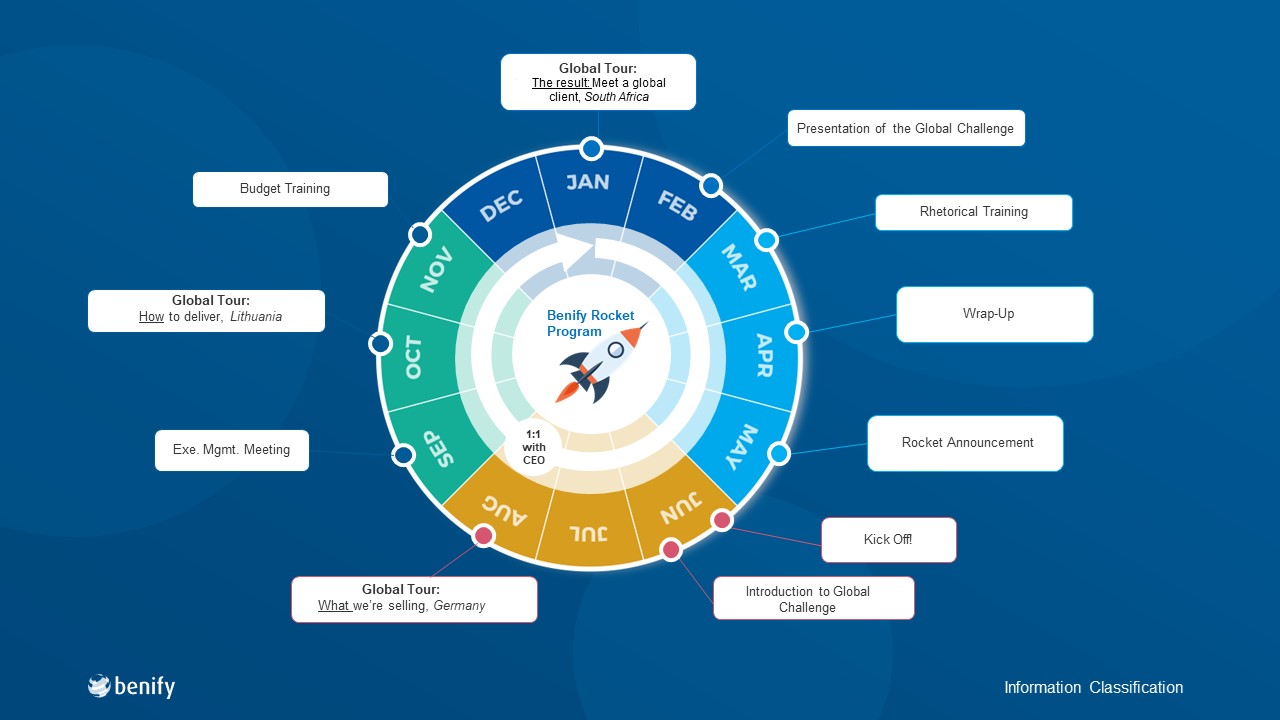 The Benify Rockets also take part in something we call a "Global Tour" where they will visit three countries to gain insight into every part of the customer journey from sales and delivery to the value the product creates. The tour features workshops, presentations and cases.
Here's what the Global Tour itinerary looks like:
What We're Selling - Benify Rockets first visit our office in Munich to gain knowledge of the product we sell and the complexity of the sales process.
How to Deliver – Next, Benify Rockets travel to Lithuania where Head of Operations and Country Manager Lithuania explains how we build an operational function that delivers on the values we will create for our customers.
The Result – The last stop on the tour is South Africa where Benify Rockets meet one of our established global customers. Here, Benify Rockets will learn about delivery, product and value from the client's perspective. While in South Africa, Rockets also participate in a number of fun activities.
The goal is that following the Global Tour, Rockets can present findings of the challenges, opportunities and solutions they identified along the way. In addition to general education, Rockets are taught how one works with budgets in a higher position within the company.
Announcing the 2019 Benify Rockets
During our annual Spring Conference, we identified five extraordinary employees to become our 2019 Benify Rockets.
In no particular order, we are proud to congratulate the following Benifyers:
Carolina Wikander, Senior Global Advisor
"Carolina continuously exceeds expectations, thinks ahead and shows love in everything she does. Carolina epitomises what it means to have a "can-do" attitude, which makes it no surprise why she is a top performer with impressive results. With a knack for making complicated matters exciting and fun, Carolina's eagerness to learn new things as well as teach others makes them one inspiring leader!"
Moa Bloom, Account Manager and Team Leader
"Starting with Benify in March 2018 as one of the first Account Managers based in Gothenburg, Moa has done an exceptional job and embodies Benify's core values. She has an admirable mindset, an amazing attitude and incredible ability to create team spirit, ensuring that everyone around her feels included."
Jakob Lundström, Senior Transaction Consultant
"Whenever you need a helping hand within operations, and more specifically transactions, Jakob is the expert. It should come as no surprise that Jakob has previously been awarded for his suggestions and improvements within his field. He has an incredible ability to see business, think in terms of scalability and act proactively all the while showing love in everything they do. A doer, a star, a Rocket!"
Ruben van den Boogaard, Product & Partnerships Manager
"Ruben instantly exceeded all expectations upon starting at Benify 18 months ago. Ruben has the ability to challenge standards and leads with a point of view. With a sound knowledge of how to drive rapid growth, his track record with some of our most important partners and clients is beyond impressive. Not only is Ruben's performance outstanding, but his high energy goes a long way in contributing to an amazing team-spirit!"
Karin Karlhagen, Solutions Developer
"Karin is a high-performing, service-minded doer who, somehow, always delivers outstanding results. Among all the many great things she has produced throughout the years, Karin has delivered some truly kick-ass demos. She works around the clock to do great work and inspires others with her always positive attitude."
Please join us in congratulating this year's Benify Rockets!
Named one of Sweden's Top 10 Great Places to Work 2019, do you want to join a fast-growing, agile, global HR technology company and be part of our amazing culture? See our current opportunities.