We were thrilled to attend Unleash World HR Expo 2023. The leading HR Tech event that brings together the brightest minds in the industry to explore the future of HR and how technology, culture, people, and innovation will shape it.

The event was held on October 17–18 in Paris, and featured a variety of engaging speakers, sessions, and workshops on a wide range of topics — including AI, employee experience, hybrid work, the future of tech and HR and Gen Z.
Couldn't make it to Unleash 2023? Don't worry, we've got you covered. Here are some insights directly from our colleagues who attended.
On AI…

As expected, the event was abuzz with discussions about AI. But despite the hype, AI has yet to make a major impact on HR departments, according to our EVP, Chris Wakely:
"Still lots of AI-related technologies, but in many cases I felt that HR hadn't fully worked out nor seen the full effects of AI yet. I think that will come in the next few years as things like ChatGPT come into their own and start to impact solutions."
Even though HR departments are struggling to figure out how to best implement this technology, they still see the benefits of including AI in their marketing:
"There was a lot more mention of AI in products, pamphlets, demos, etc. It felt like a lot of the companies are finding ways to incorporate AI, but most importantly market it."
— Sundara Deepan Nedumaran, Principal Advisor, Pre-Sales, International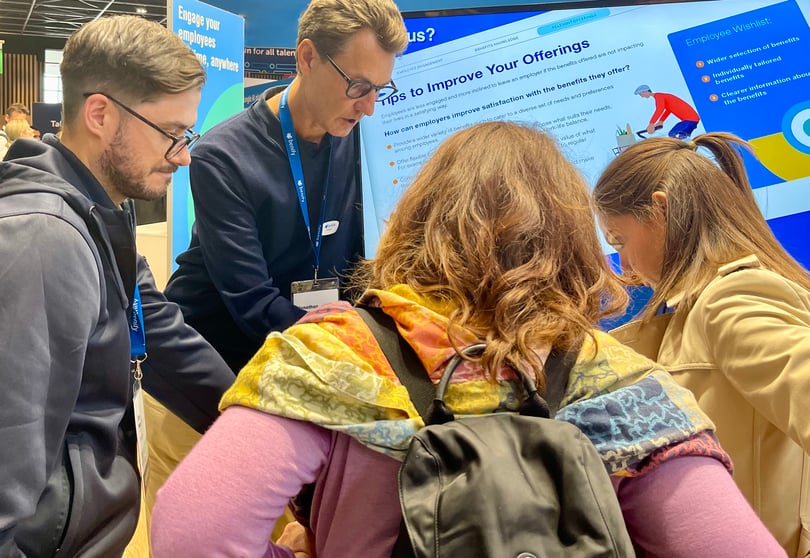 On benefits and rewards…

At the Benify stand we hosted live demos and showcased our cutting-edge technology, sharing how it can transform the way your employees engage with your rewards and benefits program. We also spoke to benefit and HR leaders who are eager to go global with their benefits experience — while reducing the administrative burden on their teams:
"Cutting out 'admin hell' was a topic that came up in a lot of conversations. As the demands of the modern working world continue to evolve, it is simply unsustainable to rely on traditional administration & communication methods, especially when managing a global team."
— James Maynard, Head of Sales Development Representatives | International
Our Sales Development Representative, Tao Foy, added that many companies were interested in adopting a "centralized approach when communicating and managing benefits to the workforce."
Companies are often in the dark about what benefits their employees are actually making use of and their total spend on rewards and benefits. This is why implementing a data-driven benefits management platform is becoming increasingly important for organizations that want to improve the employee experience and make smarter decisions:
"Organizations are demanding data insights regarding how their employees connect with their benefits to improve the employee experience and how they make faster and smarter decisions regarding spend locally and internationally."
— Jonathan Bruce, Development Director | International
On the employee experience…

Speakers at Unleash shared the importance of a people-centric approach to the employee experience:
"There was lots of buzz around 'not counting your people, but making your people count', focusing on employee well-being, engagement and loyalty."
— Jennifer McNeil, Head of Field Marketing | International
For example, Spotify's CHRO, Katarina Berg, shared the company's Work From Anywhere Program, as a prime example of how flexible and hybrid work practices can increase employee satisfaction and productivity.
About Gen Z...

Gen Z engagement and recruitment strategies were also a hot topic at Unleash, with speakers from Warner Bros. and Uber sharing insights into what motivates Gen Z workers. Gen Z workers prioritize three key aspects in their job: financial compensation, the quality of their relationships with their company and colleagues, and achieving a healthy work-life balance.
While pay is still the most important thing, factors related to well-being (like good relationships, work-life balance, and a sense of purpose) are also priorities. What's more, permanent contracts are less appealing with almost two-thirds of Gen Z workers considering leaving their current company within the next year.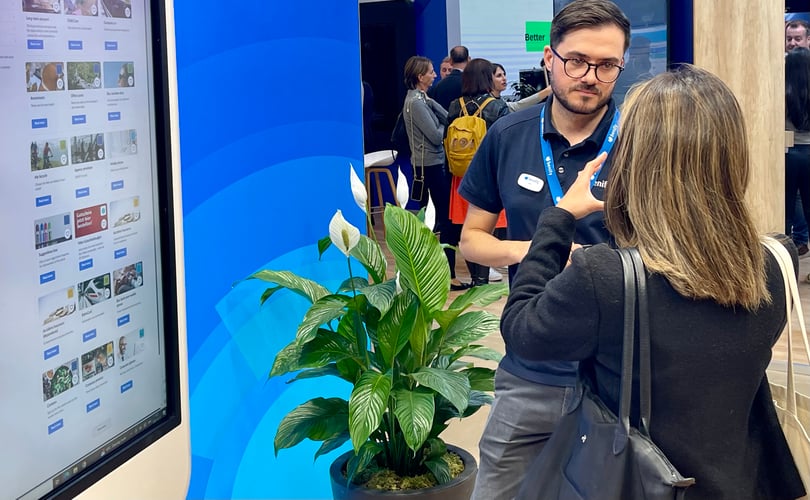 On niche HR tech…

Niche HR tech platforms are gaining traction because they offer more specialized and effective solutions to specific HR challenges:
"At Unleash this year, I saw a significant increase in niche HR technologies, such as software designed specifically for compensation management."
— Sundara Deepan Nedumaran, Principal Advisor, Pre-Sales, International
The rise of specialized HR tech platforms reflects the increasing complexity of the HR industry, and points to a future of more integrated and ecosystem-driven HR tech.
As Chris Wakely noted, there's a trend of organizations "moving away from traditional methods of data transfer and storage, such as SFTP, and towards more standardized and cloud-based solutions, such as SAML2 and API."
The growing demand for flexible and scalable cloud-based solutions is driving continued investment in specialist technologies that integrate with core ERP systems:
"Best-of-breed specialist technologies surrounding core ERP continue to thrive in specialist areas like benefits."
— Chris Wakely, EVP, Multinational Sales, Global
We were absolutely delighted to be a part of Unleash 2023 as both sponsors and attendees. It was invigorating to reconnect with people in person, engage with potential clients, and gain invaluable insights into the cutting-edge trends that are propelling the future of HR.
---

If you're looking to transform your total rewards and benefits strategy, offer your employees a digital first rewards and benefits experience, then reach out to a member of our team for a personalized demo today.