Employees are looking for more than just a job and a base salary
Study of 19k employees and HR leaders show benefits increase engagement
Analysis of 339 Gallup studies analysis confirm correlation between employee well-being, employee productivity and performance across all industries and regions.
Benefits contribute to a positive work culture and improve employee health
Benefits strengthen the employer brand thus ability to attract the future workforce
---
In addition to salary, more and more companies are making the decision to offer their workforce greater flexibility around their employee benefits.
If you're wondering what the advantages are and whether this is something your organization should do, below, we look at the top 5 reasons to offer your employees flexible benefits:
1. Increased Engagement
What company doesn't want employees who are highly engaged? Highly engaged employees are happier, more productive and more likely to become brand ambassadors.
Numerous studies have shown the connection between employee benefits and engagement. Benify conducted a study of more than 19,000 employees and HR leaders for our Employee Benefits Report. The results reveal that employees who are most satisfied with their total benefits offer estimate their own level of engagement 11.5% higher than the average and 25.3% higher than those who are least satisfied.
2. Increased Productivity and Performance
Productive employees improve company efficiency. Since the mid-1990s, American analytics company, Gallup, has been gathering data on employee well-being, productivity, and performance. World Economic Forum conducted a meta-analysis of 339 different Gallup studies, which included 1,882,131 employees and the performance of 82,248 business units. The analysis confirmed correlations between employee well-being, employee productivity and performance across all industries and regions.
So, how do you increase productivity? By increasing engagement and happiness. How do you create happy and engaged employees? Research has shown that flexible benefits are one way.
3. Improved Organizational Culture
In an increasingly competitive job market, attracting talent is a challenge for many organizations. While there can be many reasons a candidate chooses one employer over another, company culture plays a huge part.
A positive organizational culture is crucial for longevity, retention and attracting new talent. Your benefits offering goes a long way in contributing to a positive culture where employees feel supported and valued.
In the article 4 Tips for Creating a Culture Where Employees Thrive, we suggest thinking of your workplace culture as the foundation for creating employee engagement. Does your company have a culture that is conducive to creating engagement? Creating a culture with the conditions for employees to thrive begins with being transparent, sharing company core values and clear communication.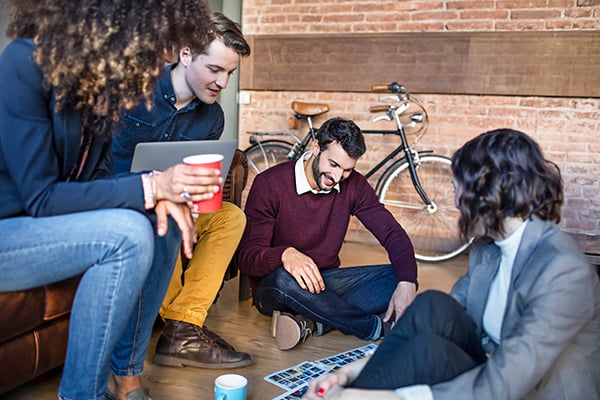 4. Strengthened Employer Brand
While simultaneously contributing to a positive workplace culture, your flexible benefits offering can also help strengthen your employer brand.
As shared in the post, 10 ways to build a modern employer branding strategy, today, it's not enough to simply paint your brand values on your walls and websites. If you want your company values to resonate with employees, you have to live by them and demonstrate them.
From CSR solutions and work-life benefits to insurances and personal finance benefits, our research reveals that employees who say they understand their employer's vision, mission and core values and up to 28% more engaged than those who don't.
Employees who are happy and engaged are more likely to become ambassadors. As ambassadors, employees will spread the word about your company, its values and their own positive experience in the form of online reviews and through word of mouth, helping strengthen your employer brand.
5. Promotes Employee Health
Work plays an important role in our happiness and well-being and can also provide us with meaning, purpose and social connection. However, our lives and interests outside of work are equally as important to our happiness and well-being. Offering flexible benefits is a great way to demonstrate your support for employee health.
One increasingly popular benefit that demonstrates support for employee health is offering flexible working hours (aka flexitime). Our Employee Benefits Report reveals that working hours and leave are the most important benefit for Generation X, millennials and Generation Z.
Another way is through discounted gym memberships, workplace massages, lunchtime yoga classes, and employee sports clubs. Our Employee Benefits Report shows that health and wellness benefits are the most appreciated benefit for Generation X, Baby boomers and Generation Z.
Want to see the full results from our employee benefits study? Download the Employee Benefits Report.