Naturally, when you buy any product, you want to be treated as a valued customer; you want to be recognised as a customer who made a careful decision to choose one brand over another. In turn, companies should acknowledge your purchase decision and loyalty should be rewarded. Unfortunately, with many large organisations, customers are often made to feel like numbers.
When it comes to employee benefits providers, complications can arise when the company is owned by a large conglomerate. When this happens, there are often diversified interests where the focus is divided across numerous businesses. There is also the issue of brokers; many brokers are often tied to a specific organisation and only present you with choices from an associated provider. In other words, usually there's more than meets the eye.
With independent companies, the focus is on one thing and one thing only – their core product; you receive unbiased advice, there's no "upselling" on any diversified businesses, and there's more opportunity to develop a real relationship with the company.
Independent companies are usually also founded by innovators and entrepreneurs, and therefore, are a place where ideas are born. Independent companies are able to work agile and can adapt and respond to their customer needs quickly.
Bought and Sold: An All Too Familiar Story
We've all been in this situation: you buy a new tech-gadget – be it the latest smartphone, computer, or Bluetooth speakers – and within only a year or two, the manufacturer decides to release a "new and improved!" version of the item. What's worse, the manufacturer stops offering support for your existing product, and over time it stops working, forcing you to buy a new one.
Of course, we all know from previous experience that when you update one piece of equipment, you often need to update other items so that they are compatible! Not only is this a costly exercise, but it is also terribly inconvenient when things suddenly stop working.
When it comes to the workplace, and specifically the administration of employee benefits, interruptions of this kind have huge implications, impacting the entire company.
Throughout the Test of Time
As a modern, forward-thinking employer, we're going to assume that you're already using a benefits platform. When you made the choice of benefits technology, we're also going to assume you were looking for a solution that would stand the test of time, and that won't expire when the provider decides to develop a new product. Unfortunately, that's not always the case.
At Benify, we understand that your benefits platform has become an integral part of your operations. Suffice to say, having to replace your software or hardware every few years is not optimal.
With a SaaS (software as a solution) platform, there is no risk of expiring products and no hardware to be replaced, which means you will not incur any additional costs when product updates are required. With a SaaS platform, all software updates are done automatically without the need to replace equipment when the technology provider decides to update their product.
At Benify, we have a dedicated team of 250 people in Product & Development who are continuously developing our SaaS platform. With Benify, your product will never expire, nor will you be forced to invest in a whole new system in a few years.
Benify's platform is fully customisable to meet our customers' specific needs, instead of offering every customer an "off-the-shelf" or "take-it-or-leave-it" product.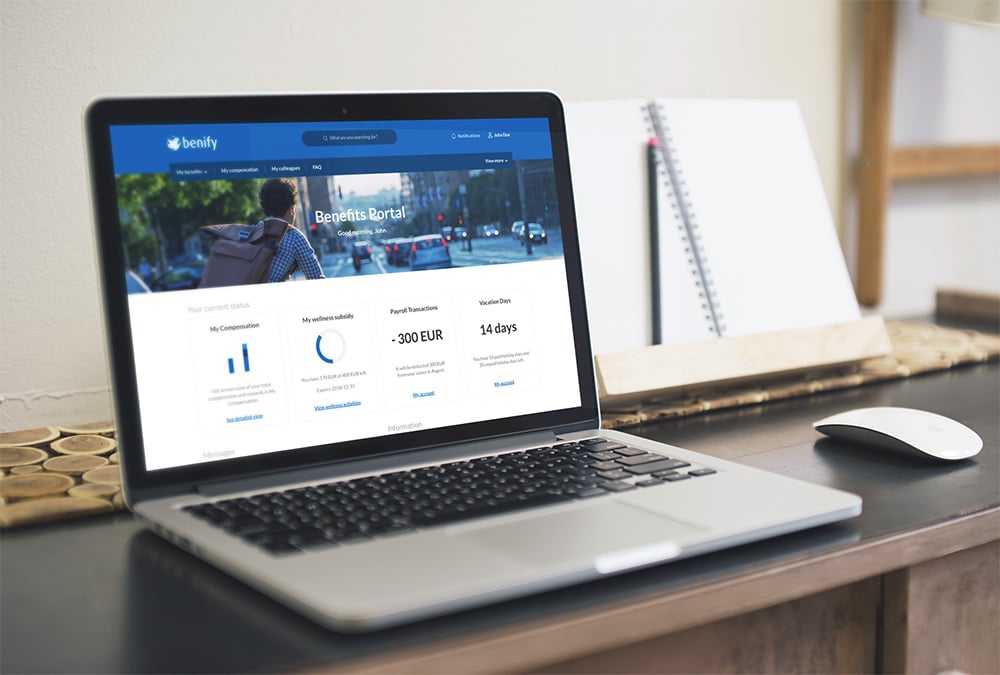 Systems Integration
The ease in which your benefits platform can be integrated with your other existing systems is also critical. After all, having to replace your system because your provider no longer supports it is made all the more infuriating when you know that integration into existing systems was a crucial selling point.
Any successful benefits platform must allow for the setup of APIs so that existing systems such as payroll can be integrated. Multiple applications can "talk" to each other while being managed from a single source.
With an API, employees can send requests from the platform, and requests are then sent directly to the supplier or to payroll. For example, employees can send requests to their healthcare provider directly from the platform, or if an employee submits a reimbursement for transportation expense request through the platform, Benify automatically transfers this information to the integrated payroll system and processes the transaction. In other words, Benify handles the entire process.
Benify's platform can synchronise with your company's internal systems, be it an SSO to your company intranet or integrating Benify as a part of your Human Resources Information System (HRIS).
Accessibility is Crucial
When it comes to creating value for employees in the form of employee benefits, it's, of course, essential that employees can access their benefits easily. Implementing a benefits platform is one thing, but with more than 5 billion people connected to mobile services, why not enable employees to access their benefits on the one device that's always with them?
Did you know 71% of employees say they want their employer to provide them with the same level of technology as they use in their personal lives as consumers? Furthermore, with 80% of global workers not stationed behind a desk every day, providing employees with a mobile experience is imperative.
One of the many things that makes Benify's market-leading benefits and total rewards platform so unique is our mobile app. Our mobile app enables employees to access their benefits anytime, anywhere, with all the functionality of our SaaS global benefits and total rewards platform.
---
In the market for a benefits platform or looking to change existing benefits provider? Discover for yourself why Benify was named Global HR Solution Provider of the year 2020.