With 26,000 employees, Ambea are the leading providers of health and social care in the Nordic countries. Most of their employees are without daily access to a work computer or intranet, which can make communication a challenge.
Like all companies with a widespread workforce, being able to reach their entire workforce quickly and make every employee feel like part of the same team had been a challenge for Ambea until they found the right tools for the job.
Filip Carlsson is the project manager in Ambea's communications and marketing department. In his role, he collaborates a lot with the HR team around employer branding and communication to create the best possible employee experience at Ambea.
In addition to the intranet, Filip and his colleagues use the communication engine integrated in Ambea For Me - Ambea's customized employee benefits and total rewards platform from Benify. The communication tools make it possible to send information via e-mail, message, which employees see whenever they log in to the platform, and push notification to each employee's smartphone.
Below, Filip Carlsson talks about how Ambea uses the intranet and Benify's platform as complementary channels to ensure no employee misses out on receiving valuable information.
Effective Internal Communication - The Importance of Using Multiple Channels
"For us at Ambea, effective communication means that all employees, regardless of education background, where in the country they are located or which part of the organization they work in, should have access to up-to-date information on what's happening in the company."
"The intranet is the primary source for internal communication at Ambea. However, many of the company's employees are not based in front of a computer every day and have no work phone or work e-mail address," explains Filip Carlsson:
"We need more communication channels than the intranet because not everyone can access the content there. The advantage of Benify's communication tools is that we can reach our employees via their own mobile phones, in a platform they're used to using to see their payslips and order benefits."
"Ambea's channel strategy for internal communication means the intranet and Benify's communication tools complement each other," says Filip Carlsson:
"The goal with the intranet is that people should be able to find everything they need. We publish updates on processes and regulatory documents as well as information from suppliers, operational information and much more. It may not be the most fun information or content, though it is important that it exists. However, other types of content run a risk getting lost in the shuffle. With Ambea For Me, we can select things that we want to make sure get attention to help build culture and create a sense of pride. That type of content can stay there for a longer period."
Extra Communication Efforts
Like many other companies, for Ambea, the coronavirus outbreak in 2020 created an even greater focus on communication. Particularly in elderly care, where the company's employees had an even bigger responsibility to protect vulnerable groups.
"The situation with the coronavirus has made it even more critical that we really bring all our employees together, so everyone feels they're informed and know what's going on. On the intranet, we've created an entire section of information about the virus outbreak, which we update daily. At the same time, we use Benify's communication tools to reach out with a 'simpler' message. It's easy to put up short films in Ambea For Me, for example, about the importance of washing your hands properly. Of course, our employees knew that it was important before, but it's always good to remind people," says Filip Carlsson.
Communication, however, is not just about routines and protective measures:
"Recently, we posted a video in Ambea For Me, where the neighbors of one of our elderly residents applauded our employees. We also have a daily activity for people with cognitive disabilities, where they manufacture visors for medical care. These are great examples that we want to highlight internally to create a sense of pride and togetherness."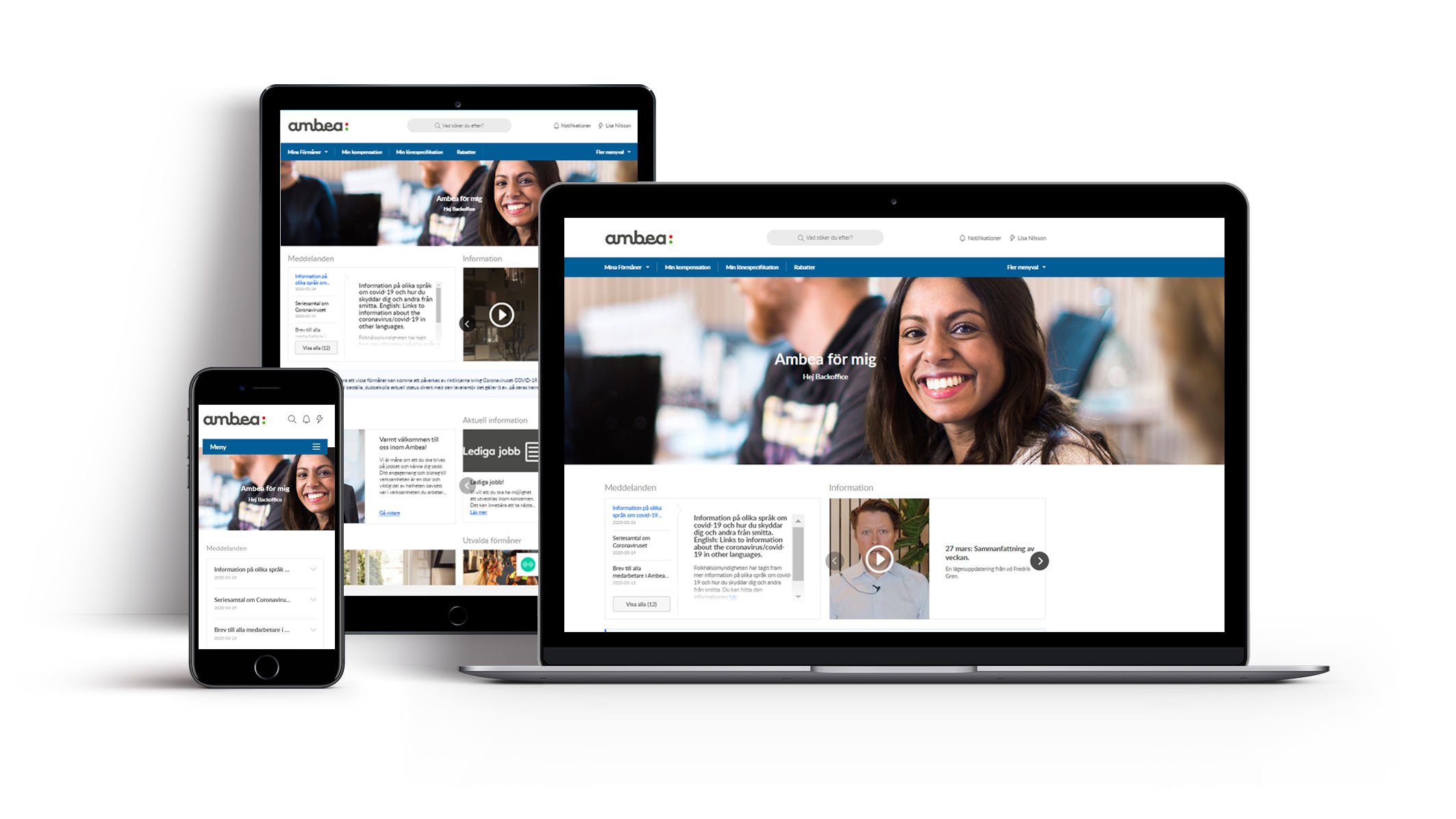 Video Greetings for More Personal Leadership
"Leadership has also become more critical in times of uncertainty. With the help of Benify's communication tools, Ambea's CEO can reach out to employees in a more personal way," says Filip Carlsson:
"Perhaps our most important new communication tool is the weekly video greeting from our CEO, Fredrik Gren. We put it on the intranet and Ambea For Me and send it out as a push notification to employees' smartphones."
"In the videos, Fredrik does a summary of the week, explains what the situation has been like and what we see ahead of us. He always pays attention to the great work that is being done in the different business areas, which is appreciated and important to our employees. It's like a personal note to our employees. The purpose is to make every employee feel noticed and seen, but also an opportunity to get answers to any questions around the availability of protective materials and equipment."
Knowing Your Target Group Is Crucial
"Effective communication is about reaching out with the right message to the right person through the right channel. To be successful with this regarding internal communication, it's crucial you know the business and its employees well," explains Filip Carlsson.
"As a communicator or HR specialist, you may be sitting at the head office where a lot of people have a lot of different functions and roles that are quite far from the core business, which in our case is care. If we can speak to the employees and convey value as an employer with our vision and values, then we must, of course, know their conditions and their everyday lives, and understand what values they see and appreciate."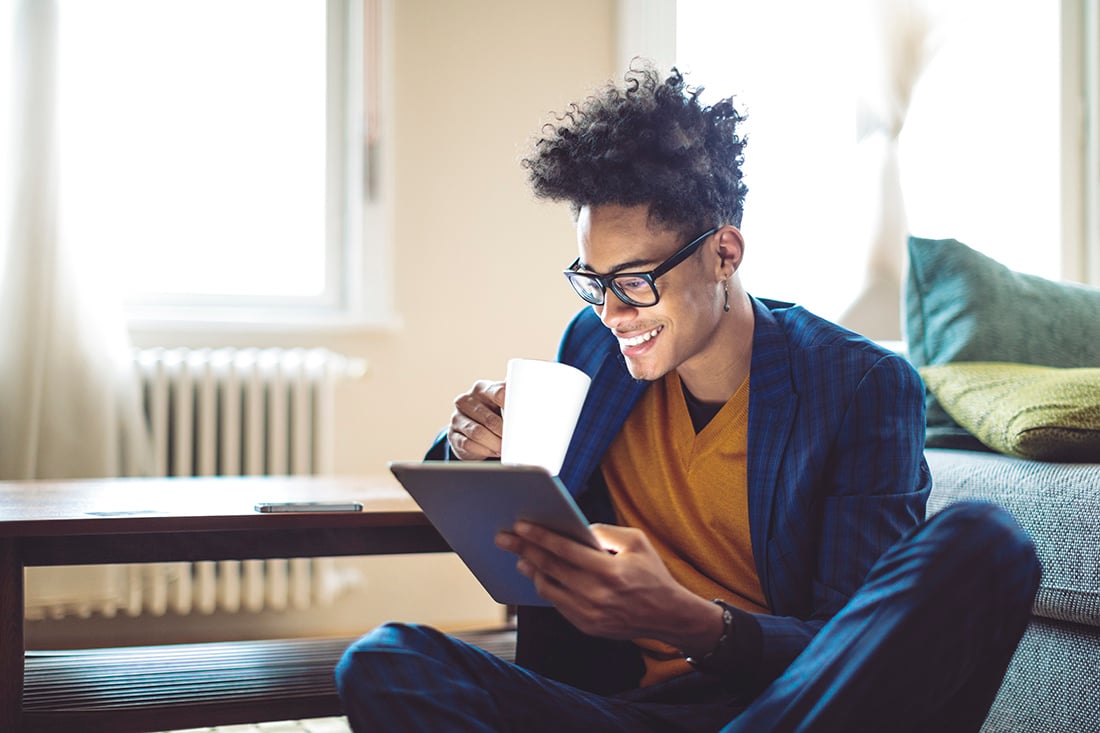 So, what is the best way to get to know your target group? Filip Carlsson says that it's, without a doubt, through personal meetings:
"At Ambea, we're very much involved in the activities of the business. I think having the time to sit down with both employees, carers and those around them to gain their perspective, taking part in the environment and the activities there are the most rewarding. This often provides us with different stories and angles than we might have originally thought of."
"Our employees are proud of their work, and they all have a story to tell. It's great to be able to acknowledge and share these stories as positive examples than can inspire others. But there are more ways to get input from different parts of the business. At Ambea, we carry out an employee survey every six weeks to gauge how things are going. It also provides an opportunity to ask questions and discover what employees appreciate about their work, and what they want to see more of," Filip concludes.
Learn more about Ambea and how they reach and engage their workforce by downloading the Ambea client case.
---
Download our new whitepaper, An Employer's Guide to Effective Communication and discover the best ways to communicate with your employees